The third generation Phantom Miro camera, small, lightweight, rugged and packed with advanced features. The Miro LC321S camera is ideal for a huge variety of applications requiring slow-motion images at cinema quality but with a small form factor and at a cost-effective price.
The flip out LCD touchscreen enable users to work in a truly untethered, no additional laptop or external controller is needed. This is a truly portable and user friendly high-speed camera.
The Phantom Miro LC321S is a 2 megapixel camera with 1.6 Gigapixels/second (Gpx/s) throughput. This translates to 1,380fps at 1920 x 1200, 1,500fps at 1920 x 1080 or over 2,250fps at 1152 x 1152. With 12-bit pixel depth, it offers high dynamic range for excellent image quality. Its ISO rating is 640 and one of the most sensitive high-speed cameras available, only comparable to the Phantom Flex.
The LC321S has been designed for use with with Vision Research's new and unique CineFlash storage technology. These removable, non-volatile storage devices slide into the camera body and provide a way to save shots from the camera's memory without the need for time-consuming and costly downloads
Love High Speed has endeavoured to offer the most comprehensive camera package available. With the Director of Photography and Focus Puller at the forefront of our mind, our standard package offers unrivalled accessories and design.
From our custom 15mm and 19mm bridge plate, custom top handle and bespoke power accessory box, the LC321S from Love High Speed is unrivalled. The power supply for the Miro has been completely redesigned by Love High Speed to offer the most flexibility possible for the user to achieve the shots needed.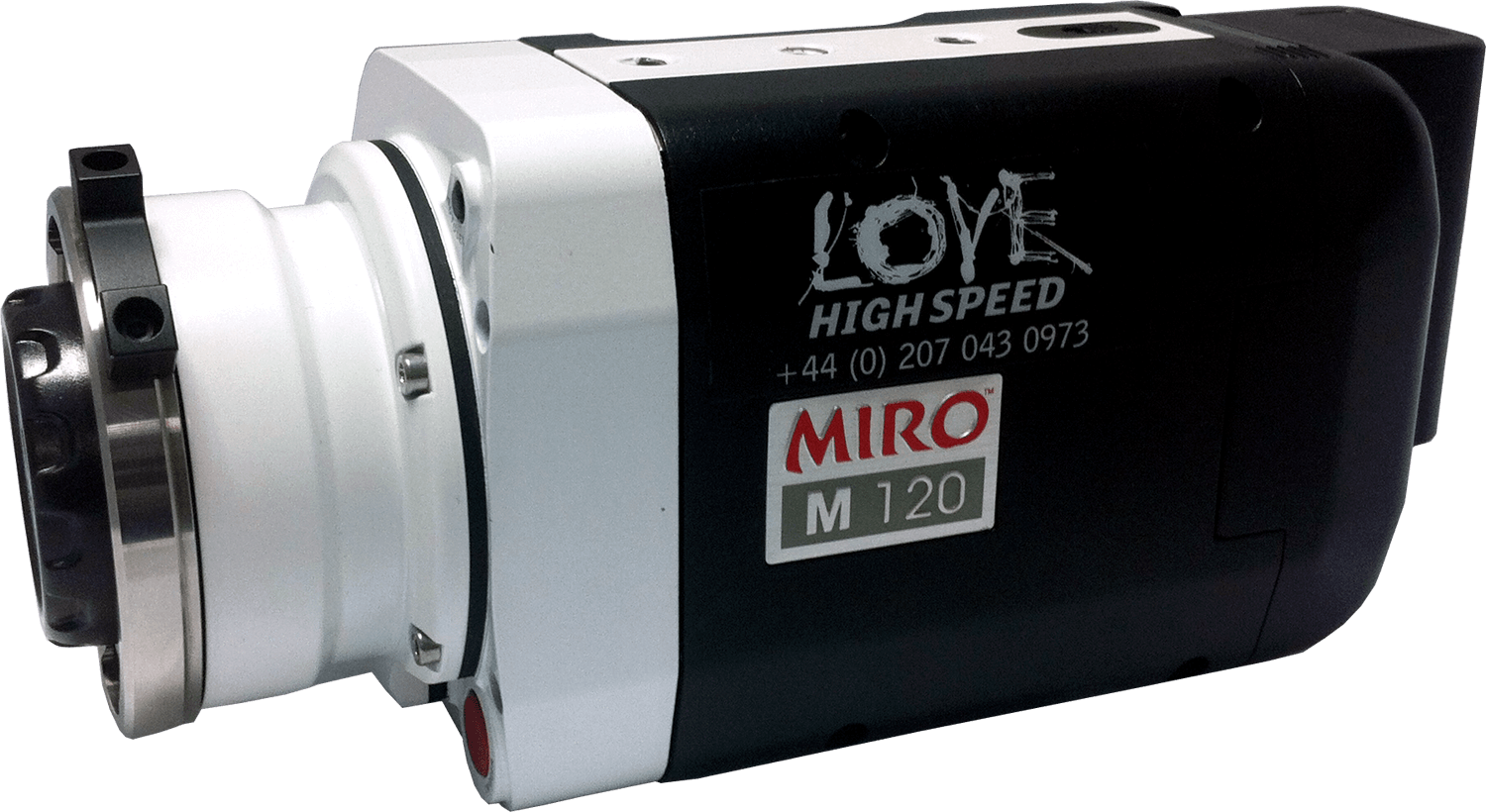 | Resolution | Frame Rate (fps) | 12GB RAM | Maximum Playback time at 25fps |
| --- | --- | --- | --- |
| 1920 x 1200 (max res) | 1,386 (max fps) | 2.6 seconds | 2 Minutes 27 Seconds |
| 1920 x 1080 (HD) | 1,539 (max fps) | 2.6 seconds | 2 Minutes 43 seconds |
| 1280 x 720 (2K 1.78:1) | 3,271 (max fps) | 2.8 seconds | 6 Minutes 8 seconds |
| Format | Resolution | Size (mm) | Image Circle |
| --- | --- | --- | --- |
| Max Res | 1920×1200 | 19.2×12.0 | 26.6mm |
| HD | 1920×1080 | 19.2×10.8 | 22mm |
| 720p | 1280×720 | 12.8×7.2 | 14.6mm |

12v Anton Bauer Batteries for on-board battery power
12v 4-pin XLR input for block battery power
12v and 24v Power Outputs
x2 HDSDI video outputs for picture monitoring
Phantom RCU input for camera control
Phantom RCU Bluetooth Dongle support for wireless camera control
9' Power and camera control extension for splitting power module from camera body
Phantom trigger adapter to BNC for standard trigger accessories.
Light-weight and streamline design reduces amount of cabling needed