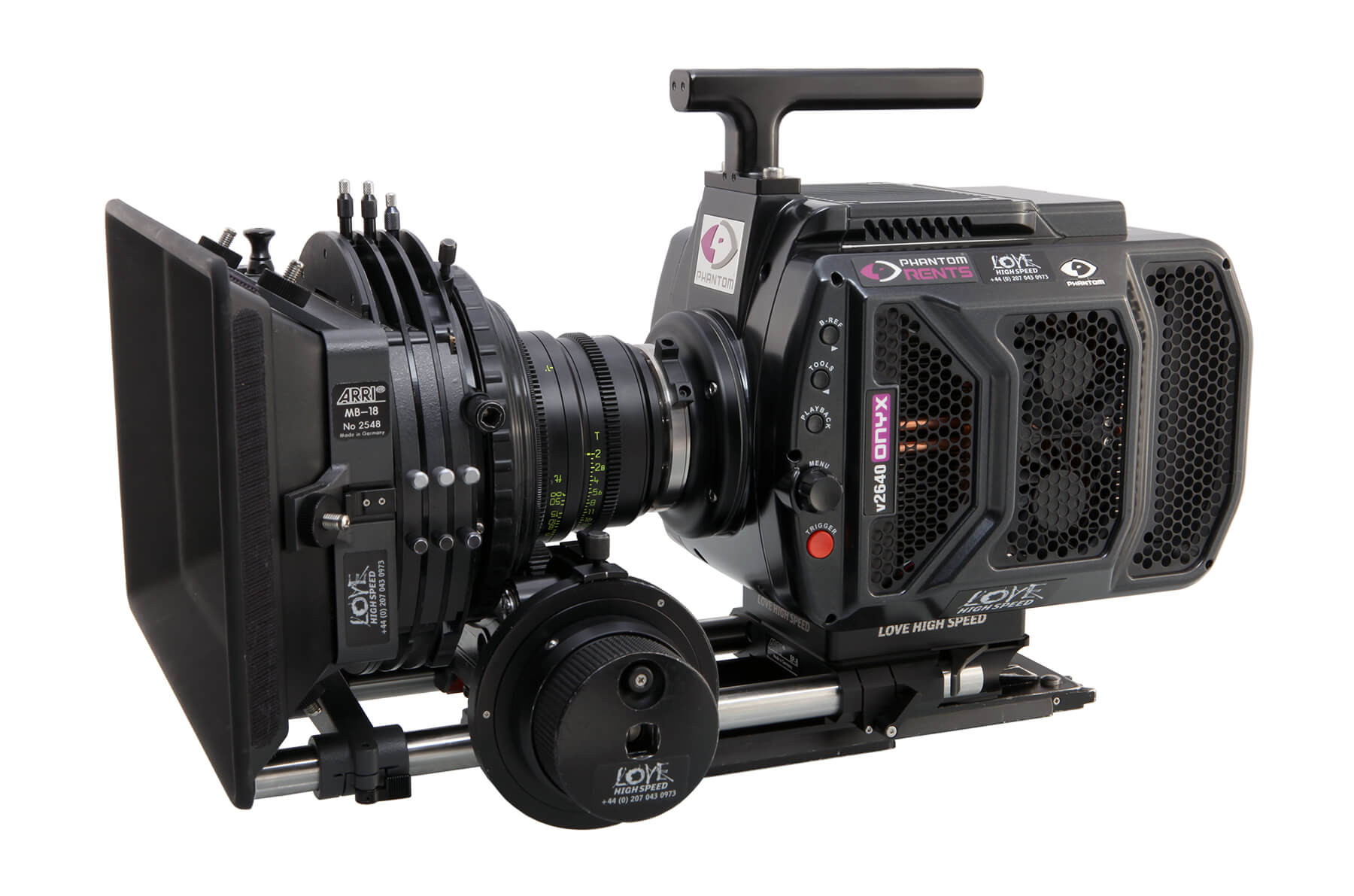 The Phantom v2640 Onyx is the media focused addition of the Ultrahigh-Speed Series of cameras and has unparalleled image quality with a full 4 Mpx sensor for exceptional detail.  The v2640 Onyx is the fastest 4 Mpx camera available and is the most sensitive camera in its class.
Key Features:
35mm depth-of-field & 35mm field-of-view
Specially made Optical Low Pass Filter
2K Square Maximum Resolution
Up to 12,500 fps at HD
3,200 ISO as a Base
Global electronic shutter
12-bit pixel depth
144 GB high-speed internal RAM
Phantom CineMag™IV support – faster data throughput
10Gb Ethernet standard
Lens mounts available PL, Canon EF, Nikon and Panavision PV
With the increased demand for higher frame rates, the Phantom Onyx offers unrivalled resolution and image quality at Ultrahigh-Speeds. For projects that need to capture images over 1,000 frames per second this is unquestionably the camera to use.
As the UK's leading slow motion camera rental supplier for the film and TV industry, Love High Speed has teamed up with Vision Research as the exclusive rental partner for the Phantom v2640 Onyx within Europe and Middle East regions.
The Phantom v2640 has the lowest noise rating and the highest dynamic range of any Phantom camera that uses a global shutter. The v2640 is compatible with the Phantom CineMag IV and V media storage systems and has 10Gb Ethernet as standard. For rentals of this unique camera, contact Love High Speed.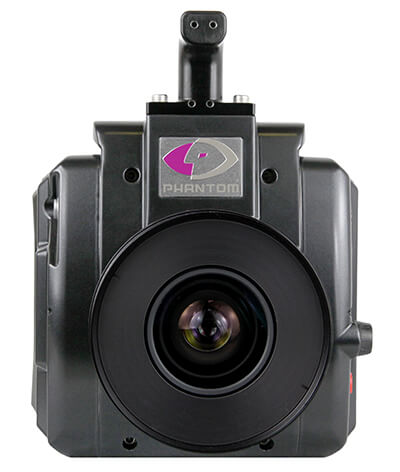 | Resolution | HQ Max fps | HQ Max Run Time | H/S Max fps | H/S Max Run Time |
| --- | --- | --- | --- | --- |
| 2048 x 1952 (max res) | 4,861 fps | 5.2 seconds | 6,601 fps | 3.8 seconds |
| 2048 x 1152 (max 16x9) | 8,071 fps | 5.35 seconds | 11,045 fps | 3.9 seconds |
| 1920x1080 | 8,581 fps | 5.75 seconds | 12,514 fps | 3.9 seconds |
| 1280 x 720 | 12,544 fps | 8.7 seconds | 19,699 fps | 5.5 seconds |
The unique square 1:1 sensor allows for HD resolution vertical extraction. Frame for 1:1, 16x9 and 9x16 all in one full HD shot, simplifying the process of framing for multiple deliverable formats for platforms such as Instagram.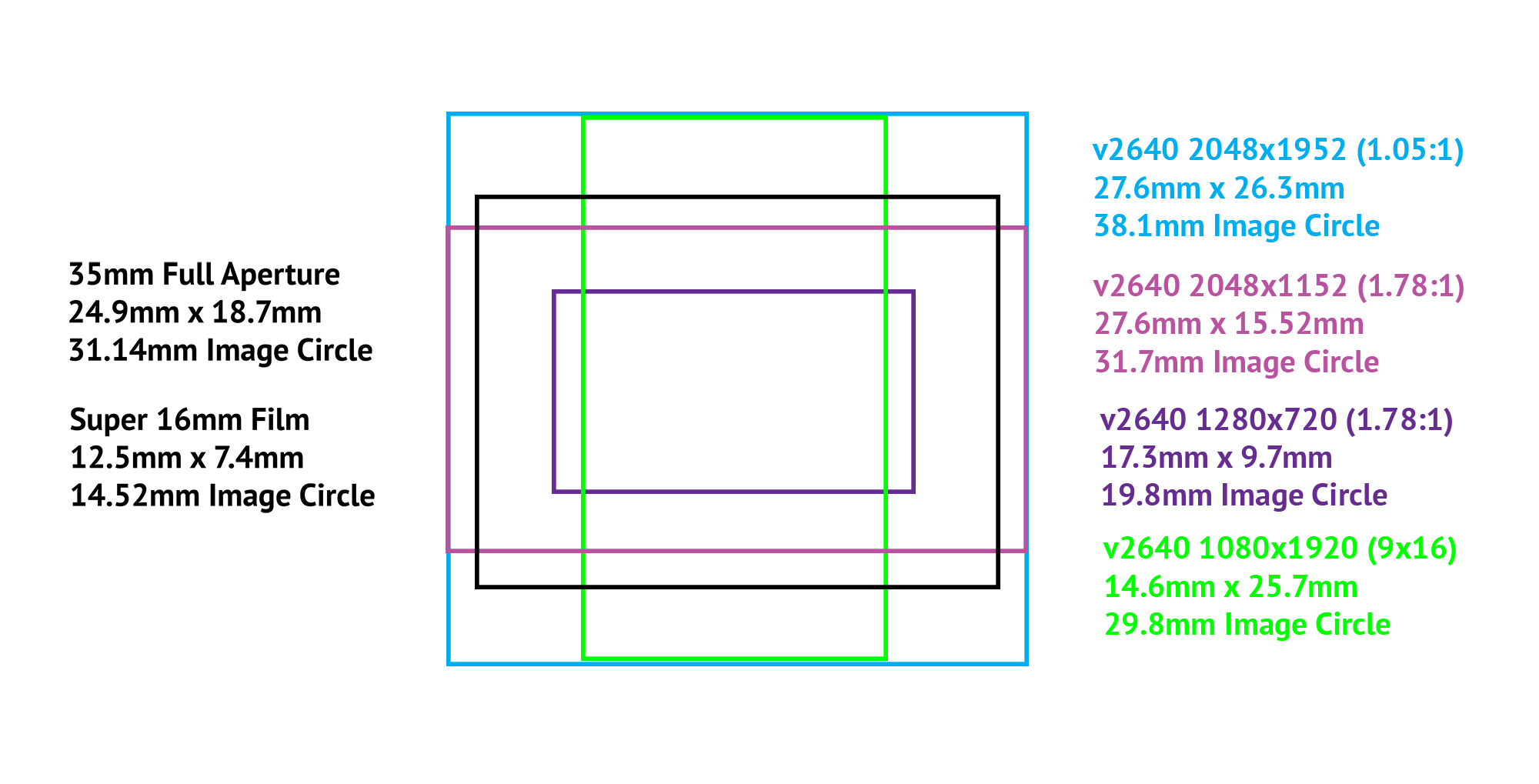 | Format | Resolution | Size (mm) | Image Circle |
| --- | --- | --- | --- |
| Full Sensor | 2048×1952 | 27.6×26.3 | 38.1mm |
| 2K (16x9) | 2048×1152 | 27.6×15.52 | 31.7mm |
| 2K Anamorphic | 2048×1536 | 27.6×20.7 | 34.5mm |
| HD (16x9) | 1920×1080 | 25.9×14.6 | 29.8mm |
| HDTV (16x9) | 1280×720 | 17.25×9.7 | 19.8mm |